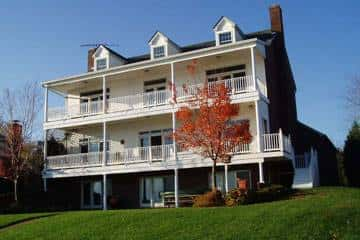 Reservations
Reservations & Policies
Reservations will be confirmed upon receipt and acceptance of a deposit equal to the charges for your first night's stay. We accept Visa, MasterCard, American Express, or Discover Card. Your deposit is refundable, less a $25 handling charge, if cancellation or changes to your reservations are made 10 days, or more, prior to your scheduled arrival. If less than 10 days and we are able to rebook, the refund policy will be honored.

Rates are subject to a 5% lodging tax and 6% sales tax.

Check in is between 3 p.m. and 6 p.m. Check out is 11 a.m. We cannot guarantee access to your room at an earlier time; however, we will accommodate both an early check-in and late check-out if possible.

Our suites accommodate two adults.

Children welcomed and we can accommodate pets on a case by case basis, subject to deposits for damages.

Smoking is permitted on the balconies.

Breakfast will be served between 8:30 and 10:00 a.m. in the dining room. Weather permitting breakfast can be enjoyed on the balcony. When you make your reservation, please let us know if you have special dietary needs and we will do our best to accommodate them.

Quiet hours are between 10:00 p.m. and 7:30 a.m.

You assume responsibility for loss or damage to Blue Heron Inn - a Bed & Breakfast, LLC property. There will also be an additional charge of $25 if you lose, or forget to return your keys.
Thanks for choosing to stay at the Blue Heron Inn - a Bed & Breakfast!
Here are just a few suggestions to individually tailor your stay, if you have any special requests or whimsies, it will only inspire us to do more!
Fresh fragrant flowers

Chocolate covered strawberries

Red, White, or Champagne selection

Special tailored packages can be arranged upon request



Tailorings must be reserved at least seven days in advance of arrival and some are on a space-available basis. Prices are based on the specifics of the requested service and can be tailored to almost any price range. Please call to discuss your specific desires.